Clarity II Laser & IPL Hair Reduction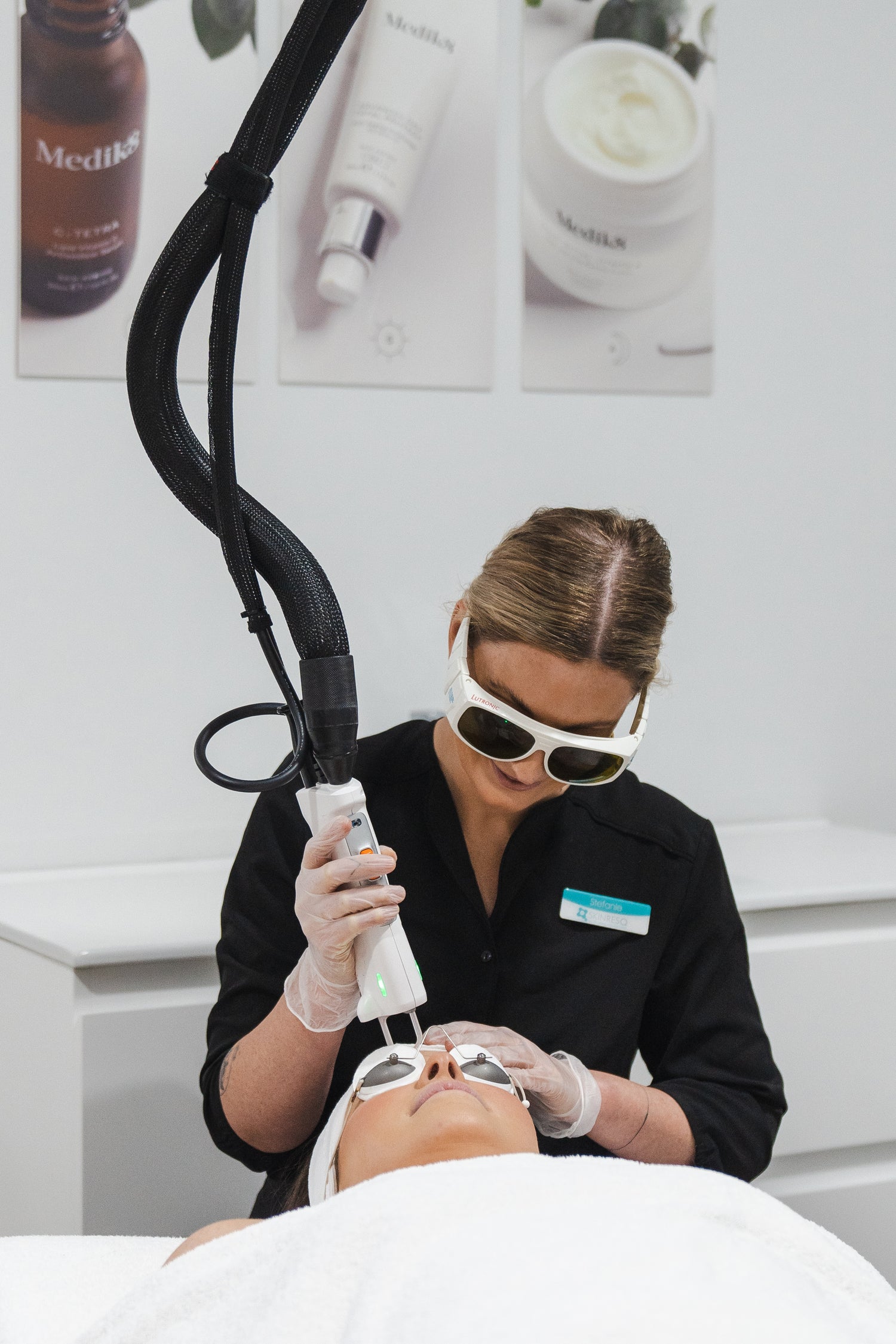 Laser Hair Reduction
Discover the power of Laser Hair Removal with the cutting-edge Lutronic Clarity II Laser. Say goodbye to the hassle of shaving and waxing and hello to the convenience of long-lasting hair reduction. Explore the details and find out if Laser Hair Removal is the right choice for you.
Laser Hair Removal FAQ's
How does Laser Hair Removal work?

Laser Hair Removal works by emitting laser energy that is absorbed by the pigment in hair follicles. This energy damages the follicles, preventing them from producing new hair. It's a safe and effective way to achieve long-term hair reduction.
What areas can Laser Hair Removal treat?

Laser Hair Removal is versatile and can effectively treat nearly any area of the body, including the face, arms, legs, bikini line, and more. It's suitable for both small and large treatment areas.
Is Laser Hair Removal safe for all skin types and tones?

The Lutronic Clarity II Laser offers customisable settings, making it suitable for a wide range of skin types and tones. However, a consultation with our skincare professionals is essential to determine if the treatment is right for your specific skin type and hair color.
How many sessions are needed for permanent hair reduction?

Multiple sessions are typically required to achieve the best results. The number of sessions varies depending on your hair type, colour, and the treatment area. Our experts will create a personalised treatment plan for you.
Is Laser Hair Removal painful?

Most clients find the treatment to be tolerable, with sensations likened to a rubber band snapping against the skin.
Is there any downtime after Laser Hair Removal?

There is minimal downtime associated with Laser Hair Removal. You may experience mild redness or sensitivity in the treated area, but these side effects typically subside within a few days.
When will I see results?

Results become noticeable after a few sessions, with hair becoming finer and sparser. Permanent hair reduction takes time, and you'll see continued improvement with each session.
Can I combine Laser Hair Removal with other treatments?

Laser Hair Removal can be combined with other skincare treatments for a more comprehensive beauty regimen. Our skincare experts can help you create a personalised treatment plan.
Experience the Freedom of Laser Hair Removal
Are you ready to break free from the routine of hair removal and enjoy long-lasting smoothness? Laser Hair Removal offers a path to silky, hair-free skin. Schedule a consultation with our skincare professionals today and embark on your journey to convenience and confidence.